Development Timeline – 2022
It is hard to imagine and very disappointing that COVID has delayed our project pretty much a full two years.  But we are confident that 2022 will be the year of full activity.  We have more meetings this month with our Development Partners.  We are hoping to have more definite timelines for each component.
Estate Lots – we have 24 estate lots that are currently available to be built on – they front on the main Parkwood Drive road into the project – we have not started any significant market for these or any parts of the project until we are ready to go
Bayview Village Apartments – This 51 – 68 unit apartment building overlooking St. Margaret's Bay is planned to start early in 2022 and be ready in 2023 – it will include a lot of Social and Recreational facilities for the 50+ / Seniors Village

Bayview Village Duplex Units – We are expecting these units to start construction early in 2022 and the first ones occupied by June or July.  These units are planned to be Two Bedroom – Two Bath – Garage.  There is some interest in making some Triplex and even Fourplex Units
Bayview Bungalows – These units are also planned to start early in 2022 – and will be built out over the next couple of years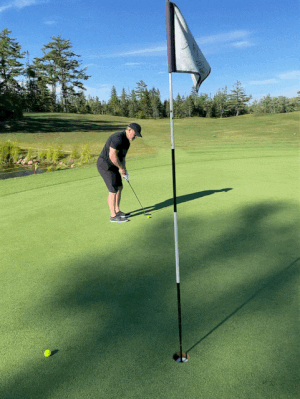 Aspotogan Ridge Golf Club
Our Robert LeBlanc designed Golf Course has had its best season yet.  With a wetter summer, it is in great condition.  I enjoyed a round of golf with Robert, Chris the Architect for our Bayview Village and Nick 3D Animation specialist.  Was fun to hear Rob's commence on the design rationale and all.
The Golf Club is gaining a reputation as a fun, friendly and challenging place to play.  The Men's nights, Ladies' days, Seniors Day as well as all the Club events are creating a fun atmosphere of social as well as competitive golf.
There has been a good junior program helping grow the game.
All the future residents of the development get to enjoy the golf course at a reduced fee for being a resident.
The Future is Exciting
The disappointment of COVID delays is hopefully behind us and the excitement of next steps and the big kick off in the spring is just ahead of us.
This All Inclusive Active Lifestyle Community is going to be a wonderful place to live with your family and or kick off your active retirement.
For more information contact